Yavapai Humane Society Adoptions and Surrenders
Available by appointment only. Please be sure to call first if you are planning on surrendering an animal.
Monday, Tuesday, Thursday,  Friday 12:00 pm – 5:30 pm.
Saturday & Sunday 11:30 pm – 4:30 pm.
We are closed to the public on Wednesdays
Our Lost & Found Department is open by appointment only. Please call us at 928-445-2666 or Click here to schedule an appointment.
Our Spay/Neuter & Wellness Clinic surgery service and Friday vaccine clinic are temporarily closed until further notice. We will post updates here on our Spay/Neuter Facebook page link.
Our Thrift Store is open Tuesday – Saturday 9:00am – 4:00pm. Donations are taken in on the WEST side of the building and will be accepted at the Thrift Store from 9:00 AM to 3:00 PM Wednesday through Saturday. If you need a large donation pickup from your home or work, please call for the Thrift Store truck at

928-765-5392.

Masks are suggested to be worn indoors while visiting any YHS facility. Anyone that is ill will NOT be allowed within Yavapai Humane Society.
We thank you for your cooperation and understanding. We care about the health and safety of our community and our animals.
COVID-19 ANNOUNCEMENT
The threat of COVID-19 has generated understandable concern within Yavapai County. The health and well-being of Yavapai Humane Society's customers, donors, community partners, staff, volunteers, and our animals is a top priority! We continue to monitor any developments  and make adjustments in our plan to protect our clients and staff against the spread of COVID-19 as needed.
We serve 100s of pets each month. Every donation you make helps take care of a person's new companion to be.
Yavapai Humane Society is passionate about finding forever homes for the 3,000+ animals we rescue each year. Opt to adopt!
Did you know that you can schedule your own appointment to adopt a dog or a cat? Click here to schedule a visit to see all the wonderful pets at YHS!
Yavapai Humane Society now has an online Pet Prescription store!
Our online store deals are comparable to Chewy, PetRx and PetMeds but with the HUGE difference that all profits from the sale go directly to the animals at YHS!! What could be better!?!? You get what you need and the animals at YHS get help for what they need!!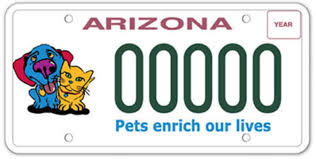 Animal homelessness in Arizona is a serious problem. You can help! Get your Arizona Pet Friendly license plate today!  Visit www.servicearizona.com. Also, please consider adopting a shelter animal next time you are ready for a new furry addition to your household. Visit your local animal shelter today. Thousands of homeless dogs and cats are waiting to find loving, forever homes.