Due to COVID-19 outbreak, to protect everyone involved, we are going to an appointment only based adoption operation effective immediately and until further notice.
Thank you for considering the Yavapai Humane Society for adopting your pet. When you adopt a homeless animal, you are rewarded with a lifetime of unconditional love and the benefit of knowing you saved a life. Well done, human!
We are passionate about finding forever homes for the 3,000+ animals we rescue each year. We are dedicated to matching families and pets of all ages, sizes, and breeds. Click the links below to see all the dogs and cats that are currently available for adoption. Click on an animal's picture to see more photos, view their age/size/breed information, and learn about their personality.
How to Adopt
Looking for Love We offer adoptions every day of the week. Visit one of our locations to meet our animals, or search our website for up to date animal profiles. When a pet's listing says they are in our foster care program, please call to schedule a meeting. We rescue new animals every day, so check back for updates!
Meet and Greet An adoption counselor will take you and a pooch out to the dog park where each member of your family (including children) and your resident dog (if you already have one) can get to know each other and play. These on-site dog-to-dog introductions are conducted by our Adoption Counselors and take place in Buffy's 'Get Acquainted' Dog Park. Keep in mind, the best matches are made between animals that have both been spayed or neutered. For cats, we have a meet and greet room with toys and a cat play area.
Get the Details We will share what we know about the animal(s) you're interested in and answer any questions you might have about bringing an animal home. Our adoption counselors have many tips on how to make the pet's transition to a new home a positive one. Get answers on questions you might have about approaches like crate training, exercise, slow introductions, training, and more.
Finalize the Adoption Allow about 30 minutes for the adoption paperwork. We'll go over your information, register your microchip, set up 30 days of pet insurance and make sure you understand the information in the adoption packet. Adopters must be at least 18 years of age and have photo identification. If you rent, please bring your lease agreement, stating that animals 

are allowed

. Sometimes we'll need a vet tech to check how a spay/neuter incision is healing and give you medical advice. Dogs and puppies must go home with a leash and collar. We have some for sale in our lobby gift shop or you can bring your own. Minimum donations (listed below) help us pay for the care of the 300 homeless animals we shelter every day. We appreciate cash, check, Visa, Mastercard, Discover or YHS gift certificates.
Do your Adoption "Happy Dance" Congratulations on finding your new best friend! Make sure you post pictures and updates on our Facebook page!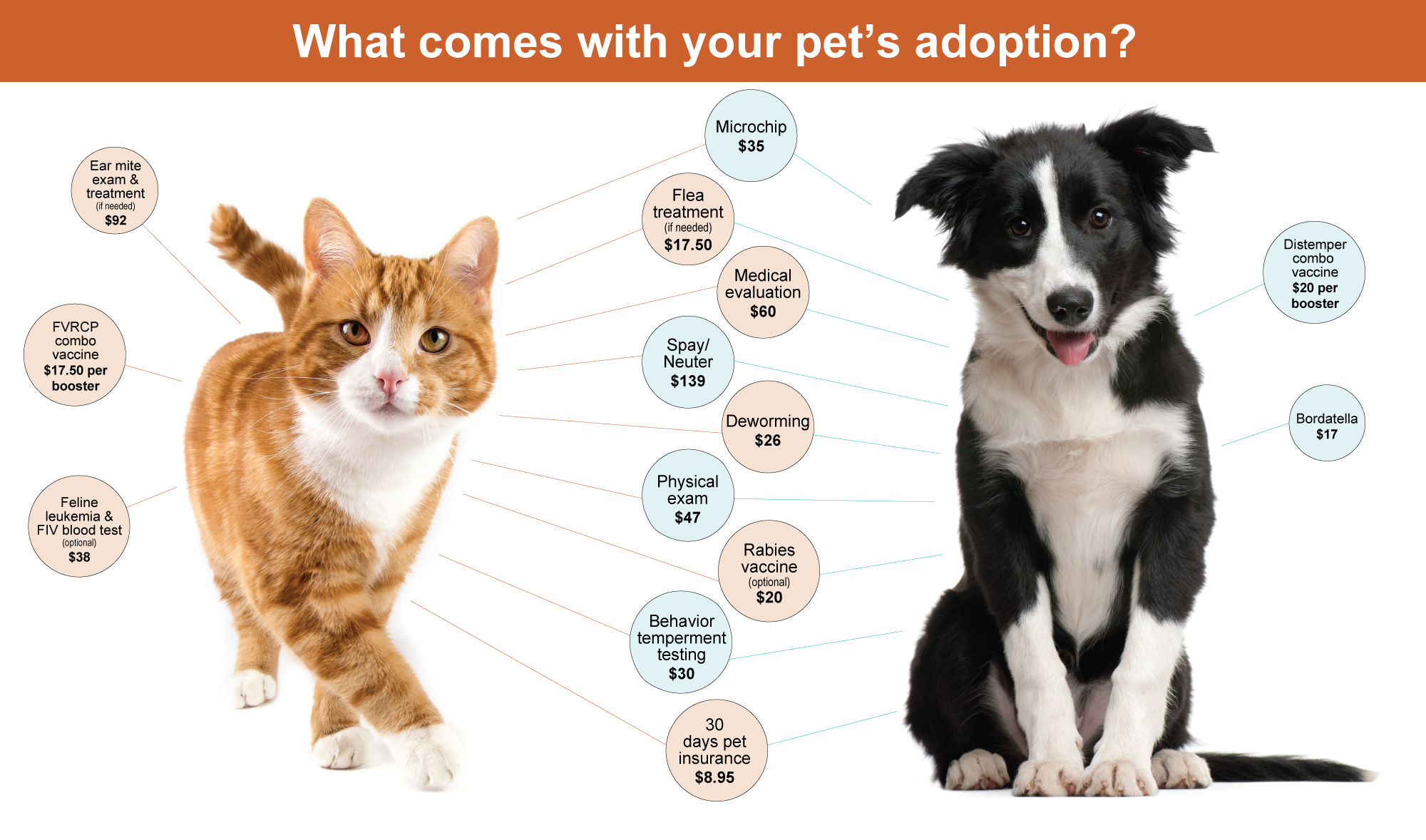 Minimum Adoption Donations
The minimum adoption donation is just that, a minimum donation. Some folks choose to donate more. All donations are tax-deductible as YHS is a non-profit, 501(c)3 animal shelter.
Dogs
$320 for puppies under 6 months and purebreds 
$170 for dogs under 15 lbs
$120 for dogs 6 months to 6 years (excludes dogs under 15 lbs)
Superhero Dogs are $320
$70 for dogs over 7 years old (excludes dogs under 15 lbs). Minimum donation is sponsored for adopters 60+
$30 for YHS pet residents that have been available for adoption for 30 days or more (excludes dogs under 15 lbs)
Adoption fees are waived for YHS Pets of the Week
Licensing fees may apply
Cats
$85 for kittens 6 months and younger
$35 for cats older than 6 months
Adoption fees are waived for YHS Pets of the Week
Additional testing fee may apply
We offer an optional FELV test for $20 to kittens under 6 months of age and the FIV/FELV combo for $25 for cats 4 months of age or older. If a cat has already been tested, the testing fee will be added to the minimum adoption donation. (Note: As per PetSmart's rules, ALL cats and kittens at Yavapai Humane Society's PetSmart store adoption location have been tested and receive a rabies vaccine.)