Yavapai Humane Society Thrift Store
New Look, Lower Prices. Great Bargains, Great Cause!
From clothing and household items to jewelry and more, the YHS Thrift Store is loaded with great deals for every bargain hound!
Open:
Tuesday – Saturday
9:00 am – 4:00 pm
Donations accepted:
Tuesday–Saturday
9:00 am – 4:00 pm
Please bring donations to the back of the building.
Buy Online!
COMING SOON! Look for our new online web store, still in development, and see our "Pick of the Litter" online merchandise featuring hand-picked treasures with great deals. All of the proceeds benefit the homeless animals at Yavapai Humane Society.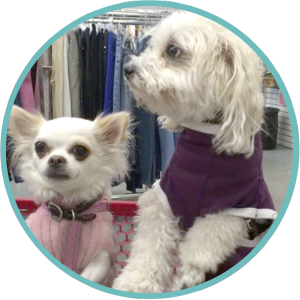 Donate.
If you're moving, downsizing, or spring cleaning, please consider donating to YHS Thrift Store. We respectfully request donated items be sellable and in good condition. Broken or soiled items actually take funds away from the animals due to costs of disposing unusable donations. When you drop off your donation, take a moment to see the fine collectables, fine jewelry, antiques, and other treasures in the YHS Thrift Store. The Yavapai Humane Society Thrift Store also graciously accepts the donation of automobiles, trailers, RV's, boats and motorcycles in good working condition.
We Fetch!
Yavapai Humane Society now has two trucks!
We can fetch your large and bulky items.
Call to schedule a pick up TODAY!
928-445-5668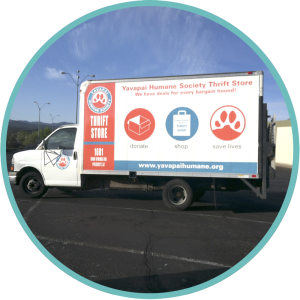 Sales
25% off  for veterans, 1st responders & active duty military every Tribute Tuesday!*
*Excludes items marked as "Firm"